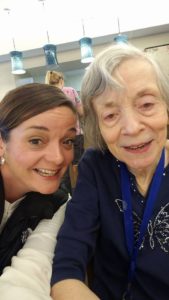 It's always a tough decision – to bring someone in to help take care of an elderly relative.
But once you have made that decision there's another huge one to follow: are you going to hire someone yourself, or contact an agency?
The initial thought of hiring your own caregiver may be to cut costs, that's only natural – but that now makes you an employer, and are you prepared for all the responsibilities that go with that? There's state regulations and labor laws to follow. You'll need to track hours and take care of things like worker's comp. And there are significant penalties for mistakes like classifying a caregiver as an "independent contractor" that can lead to hassles with both Social Security and the IRS
And what about day-to-day supervision? You know you won't be there yourself, and if Mom or Dad has Alzheimer's are they going to be able to give you a report on your caregiver's activities – whether they put in the hours they claimed, did the work they're contracted to do, handled medications properly?
You can avoid so many of these problems – and give yourself peace of mind – by choosing a trustworthy and reliable agency that can take care of Mom and Dad of course, but also handle employee management.
At Misty's Senior Services, our first class caregivers are the most visible part of our operation – but behind the scenes we work hard every day to make sure that we are always a responsible and professional employer.
So when we meet with prospective clients we want to be asked not only about quality of care, but about overall quality of the service we provide.
Our caregivers are employees who are screened, bonded, insured, and have completed a comprehensive background check. We pay their taxes and workers' comp, and we provide health insurance and other benefits. Our caregivers are extensively trained and we offer 24/7 support for any care or scheduling issues that may arise.
You can trust Misty's Senior Services.
Misty's Senior Services, LLC. Mount Airy, MD
Misty Seagraves
(301) 704-2074
Senior Assistance ~ Elder Care ~ Senior Care ~ Home Care ~ Fall Prevention
Dementia Care ~ Companion Care ~ Expert Caregivers ~ 24/7 ~ Hygiene Assistance
Skilled Home Care ~ Senior Transportation ~ Respite Care ~ Overnight care ~ Companionship